VISION and AI
We started SoftSmile with a mission to transform digital dental treatment planning. We are building a smart and beautiful machine that has the most powerful engine inside. Vision is fast, comprehensive, and very intuitive.
We are building it because we know that the best way to make orthodontic treatments affordable is to give more options and freedom to those who make perfect smiles – to doctors.
From time to time, I share certain "under the hood" components and mechanics of Vision. This time I'd love to share, to the possible extent, how we use AI in orthodontic treatment planning.
SoftSmile employs various AI techniques (heuristic algorithms and machine learning).
For example, once the teeth model from the scan is uploaded into Vision, heuristics help to polish it and, while preserving the teeth geometry, erase any artifacts left after scanning. This helps a user save a tremendous amount of time usually needed for prepping a model.
This is the result: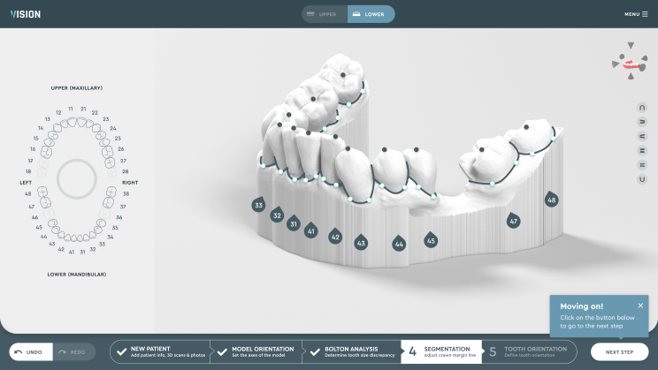 The next stage, Segmentation, is also powered by AI. It is fast and extremely precise thanks to our proprietary and intricate algorithms. While with traditional software solutions a user will manually contour each tooth (a pretty mundane task) and indicate the boundary between teeth and gingiva, Vision automates this process. In order to accomplish this, our proprietary algorithms analyze the surface of the model and build a model of various outcomes where the closest to the real teeth shape is chosen and automatically contoured.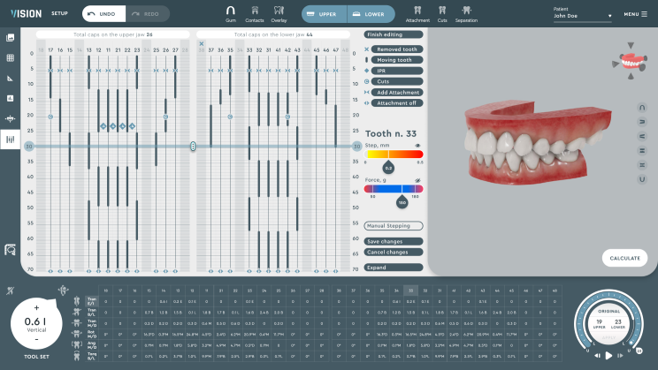 A user then will approve the segmentation or, if needed, adjust the contours.
A high-quality segmentation result can typically be achieved in less than a minute. The most fascinating aspect about this technology is that some of our algorithms are based on millions of simulations and work almost ideally.
While the algorithm saves a significant amount of time for the user, some manual adjustments may still be needed. We expect the results to be extremely precise and require no refinement from the user once Vision starts collecting data from its users. The more data is collected, the more accurate the automated contour detection will be. As additional data is fed to our algorithms they will improve their generality and robustness, which will result in their ability to handle more complex clinical cases and input data artifacts.
Segmentation is not the only or most difficult part of Vision where self-learning is employed to make a difference.
The main component of the treatment plan is usually called Setup.
It is the stage where a doctor shall manipulate the teeth from an initial, usually crooked, position to a final position representing, from a doctor's perspective, an ideal alignment. While the basic elements of the ideal setup are widely accepted, each doctor may have her own style and preferences.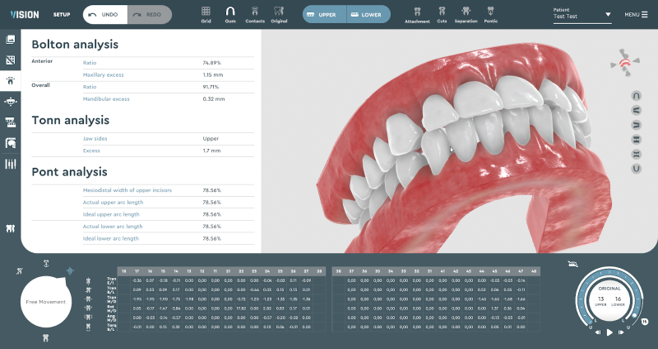 We made sure that every touch and style is being analyzed and, where appropriate, employed by Vision. Thus, AI learns from two datasets: 1) general data, geometry, the final alignment of all cases ever treated/produced/processed with Vision, and 2) a set of cases treated/produced/processed by a particular doctor or clinic.
While the first large pool of cases teaches Vision on general principles of teeth movement and helps to determine the treatment strategy based on the widespread principles of the orthodontic treatment, the second tailored dataset is useful for a certain doctor – if he/she prefers certain moves, the program will learn from him/her and make sure that all future predictions consider his/her preferences or style. This feature is based on a technique called transfer-learning, where a model is trained to solve a general problem and then fed additional input to teach it to specialize in something more specific, i.e. satisfy the preferences of a particular user.
No matter how convenient and innovative our automated scenarios may sound, they merely serve as a high-level assistant for doctors. Yet, we believe that such automated tools will help to increase the efficiency of the orthodontic treatment and can be helpful to those doctors, who only start their aligners practice.
Even more fascinating uses of AI in Vision are yet to be disclosed. We have already started testing a new and ingenious module that will make the overall treatment even more precise and predictable.
We taught Vision to calculate all applying forces in each specific case through AI and infinite element analysis. The doctor will know how exactly the teeth will be moving. This is an innovation worth a separate article, and we eagerly anticipate a day when we will demonstrate to everyone this super-intelligence that we are building behind the scenes at SoftSmile.
Stay tuned.
share
Stay up to speed
on the latest at
SoftSmile