When Beauty Met Algorithms
Origin Story:
SoftSmile's Founder & CEO, Khamzat Asabaev, didn't know very much about the orthodontic sector when his friend, a young orthodontist, came to him with the idea of creating an orthodontic lab. With very few resources this doctor utilized 3D printing to begin making aligners in-house at a low cost to himself and his patients. Khamzat was so inspired by his friend's achievement that he invested much of his own savings to help build a company that would change the orthodontic sector on a global level.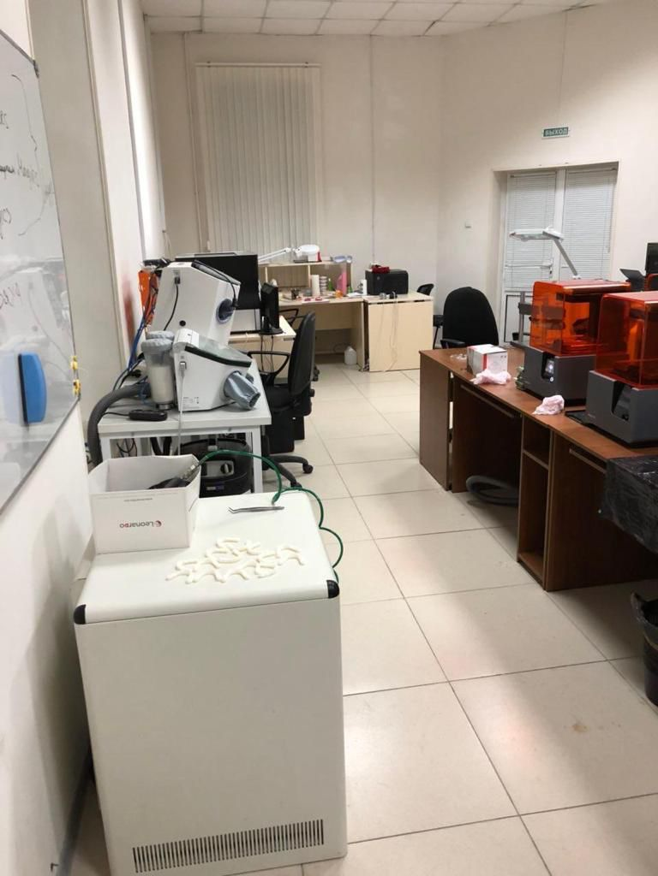 SoftSmile's original orthodontic lab
Khamzat knew his friend had created a model that could transform orthodontic practice by increasing the accessibility and affordability of treatment for millions of patients. In late 2019 they founded SoftSmile to address the huge disparity between the small number of companies that can provide quality aligners with the large number of patients who are unable to afford the expensive aligner treatments those companies provide.
Three years on, SoftSmile received FDA approval in December 2021 for its digital treatment planning platform, VISION.
Growth Despite Challenges:
Originally, VISION, the treatment planning software built by the SoftSmile team, was merely a byproduct of the team's development of 3D printed lingual braces and aligners. Asabaev recalls, "In 2019, after some difficulties with production, we realized that the main bottleneck in the industry is the software so we decided to focus on developing innovative treatment planning software. Today we've created the best-proven technology on the market."
SoftSmile has experienced an immense amount of growth in the past two years, despite the challenges of launching a startup in a global pandemic. Asabaev notes, "The Covid-19 pandemic impacted us in, maybe, a good way because it slowed us for time. So instead of selling or delivering the software to the market, we spent one more year polishing it, adding new features, and now it's more powerful and precise than ever." The pandemic forced the company to change course and delay the launch of its product, but this has proven to be a blessing in disguise.
Between 2020 and the most recent FDA approval, SoftSmile's engineers have compiled feedback from hundreds of orthodontists around the world and have been able to greatly improve VISION. The software now includes many new features that were requested by orthodontists. SoftSmile was able to accomplish these improvements by growing its team of two engineers to 40 team members with highly specialized skills in artificial intelligence and 3D modeling.
"Back in 2019, our software had all the main features that a doctor would need to make a treatment plan, but it was not as beautiful, as fast, as powerful as it is today. It was like a skeleton. During the past three years, we added muscles onto this skeleton and today we have all those features faster, more precise, and way more beautiful than they used to be." – Khamzat Asabev, Founder and CEO of SoftSmile.

A screenshot of the latest version of SoftSmile's orthodontic treatment planning software, VISION
Unlike many of SoftSmile's competitors, VISION contains a beautiful and intuitive interface. "We've combined functionality and aesthetics. We believe this is one of our main achievements, and it may be strange to say that beauty is important here, but in our sector, in our business, it's not only a matter of aesthetics. It's a matter of actual precision, how a doctor sees what's there, how we can conserve geometry of teeth and demonstrate them on the interface" Asabaev explains. SoftSmile's engineers prioritized the aesthetics of the software to enhance the visualization of the teeth and all their elements.
Somewhat unexpectedly, SoftSmile's first clients have been dental companies and labs, rather than individual doctors. Asabaev explains that his "initial strategy was to give the software to doctors, but I was wrong because apparently labs, and even big dental companies, also needed the software and they became our first clients. But the plan remains to work with doctors. I'm saying this because it demonstrates how planning the success of a company can be actually happily wrong."
FDA Approval and the Future of VISION:
SoftSmile received 510(k) FDA clearance for VISION in December 2021. Only a handful of dental companies have received this kind of approval from the FDA for their CAD/CAM systems thus far. This is a huge accomplishment for the company and paves the way for SoftSmile to transform the orthodontic industry for the better.
Receiving approval from the FDA was an extremely difficult process that took 18 months and a huge amount of resources. SoftSmile had to demonstrate to the FDA that VISION is capable of delivering its promised results and isn't dangerous for patients.
With this FDA approval, SoftSmile is able to license VISION to individual doctors in addition to large dental companies and laboratories. In the coming months, SoftSmile will prepare to launch sales of VISION in the US and present a demo of its automated setup to the market. The SoftSmile team is committed to constant innovation and will continue to make improvements to VISION even after the product launch.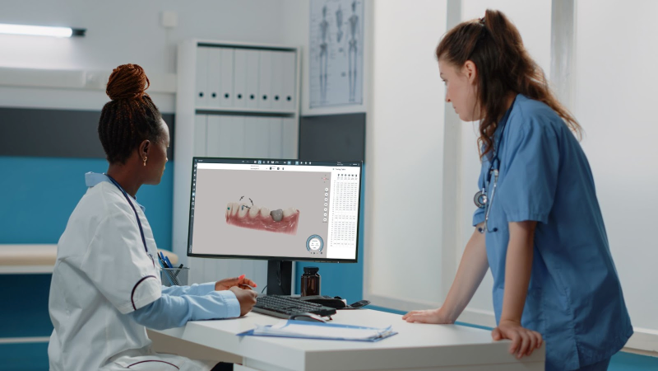 An orthodontist and assistant using SoftSmile's orthodontic treatment planning software, VISION
SoftSmile's mission is to democratize the orthodontic market by making it possible for patients and doctors to have more options when choosing and facilitating treatment. The current orthodontic market is inefficient and forces doctors to rely on middlemen. SoftSmile is the middle ground between third-party companies that make doctors dependent on their technicians and manufacturers, and direct-to-consumer companies that remove doctors from aligner treatments entirely. The company's primary goal is to help doctors achieve independence and ensure their control over treatment.
With VISION, doctors own all the steps of treatment planning and can cut down on the time and costs of aligner production. Doctors are able to choose to print with a lab or SoftSmile or even in-house if they have a 3D printer; most importantly, they can choose their own price. These benefits solve problems for both doctors and patients by ensuring quality, precision time, and cost-efficiency.
"SoftSmile's main mission is to make aligners as a solution, as an orthodontic treatment, accessible and affordable to a wider group of people, and we know we can do this through our technological advancements." – Khamzat Asabaev, Founder and CEO of SoftSmile.
share
Stay up to speed
on the latest at
SoftSmile