3D printing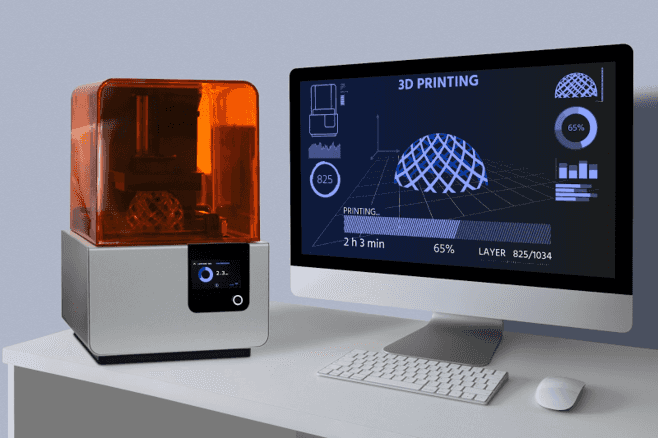 Chair-side 3D printing of milling and restorative appliances has been available for years but hasn't been considered a disruptive means of technology in the restorative dentistry industry. Extended efforts, inaccuracies, and lack of dentist and patient satisfaction have hampered the technology's potential. However, the use of chair-side 3D printing has been a much-needed light at the end of the tunnel in the field of orthodontics and experts see hope in the early adaptation of this new technology. Most orthodontic appliances rely on high quality treatment planning for positive patient outcomes. The key to advanced treatment planning is the use of precise predictability models.
Advanced treatment planning and chair-side 3D printing bridge the gap between the introduction of aligner systems manufactured and distributed outside of dental offices, and orthodontic practices equipped to handle the complexities of treatment. While over the counter (direct-to-consumer) aligner systems are an attractive option due to their affordability and accessibility they are limited in their specifications, tailoring, and expertise. The 'one-size-fits-all approach is not appropriate for all cases, which is why orthodontic expertise is emphasized in the industry time and again. Tools, such as 3D printers and innovative treatment planning software, need to be employed and refined for optimal patient care.
Why should your practice invest in 3D printers?
Every case is a unique challenge for an orthodontist because every patient's anatomy is different. 3D printing for orthodontics enables doctors to achieve the same, consistent metrics while reducing human error, processing time and inevitably fewer uncertainties of the end results. Most importantly, from a business point of view, 3D printers have been known to increase the efficiency of the staff once the initial workflow changes have been adopted. Additionally, benefits for your practice include shorter appointment times, no physical space needed for model storage, less per-unit time, and less dependency on outside laboratories.
3D printing technologies commonly used today are classified based on three technologies they use: Laser SLA, DLP, and LFS Laser (Low force stereolithography). SLA utilizes laser and resin, DLP (Digital Light Projection) uses a projector screen and LFS laser utilizes laser and liquid resin. Production times of each are comparable, however, if you would like to see the difference in results and accuracy it is recommended you request a custom sample of your own design and compare fit to your original. SLA has been around since the 1980s and LFS is considered a newer revision of SLA. These tend to do better in terms of time when it comes to producing smaller items. DLP on the other hand has better production time for larger items. So, the choice between technologies and brands is really based on personal use and utility depending on what function your practice needs.
What are some utilities of a 3D printer in an orthodontic practice?
While 3D printers provide a range of services outside of orthodontics, their utility within the field of orthodontics is beginning to be a highly valuable commodity. From simple diagnostic or orthodontic models and surgical guides to splints, lingual braces, splints, retainers, and most importantly clear aligners. Having a 3D printer in-house gives you the flexibility of printing virtually any small or large part of a dental appliance, guide, or model for treatment planning.
How does an orthodontic digital case differ from a manual case?
Depending on the case, intraoral scanners or specialized optical scanners replace the manual impressions during an intraoral exam. Alternatively, the same can be done with manual impressions. A good data acquisition and digitalization software such as SoftSmile is key for this crucial step in treatment planning. SoftSmile offers a wide range of data points that can be entered by the dentist into the software using intraoral scans or CBCT. Depending on the need of the case, virtual articulators and intraoral images are additional features that can be utilized to gather additional information. The software can then be used to process and design a treatment plan using preset algorithm. Since the software is designed by dentists and for dentists, the versatility of these settings and algorithm is immeasurable. Once the final treatment plan and appliance are set, this can be used for manufacturing in-house using any 3D printer. SoftSmile is compatible with all 3D printers on the market, allowing flexibility where most software does not. Alternatively, this data can be shared with an outside laboratory compatible with digital dentistry for manufacturing.
What are the challenges you will face as a practice bringing 3D printing to your chair-side?
The initial challenge with introducing any new technology into any practice is training your staff and identifying and introducing a new workflow to your practice. It is important to have everyone, from the front desk staff to the back-off house, be on board and fully trained in the basics of digital dentistry. This is where your printer`s manufacturer, as well as the data acquisition software manufacturer, are a great resource. They will walk you and your team through the technology in-depth, from understanding the file types DXD, STL, OBJ, and PLY and be able to apply this to different file export options to better utilize your intraoral scanners.
All in all, 3D printing, and manufacturing is a worthwhile investment that does require training and resources in your practice. However, the benefits outweigh the costs which is why most high-yield practices have invested in this innovative technology. It not only attracts more patients but also allows you to move your team and practice into the future of dentistry where accuracy, efficiency, and reliability are the key results.
share
Stay up to speed
on the latest at
SoftSmile